Spirit of Friendship
1975-2021 Vietnamese artist collectives Historical Timeline
Criteria For Artist Group Inclusion
Artists who share time and space in the mutual thinking of artistic ideas, and known by their community as a group who work, play and think together
Friendship between artists, as a means of initiating artistic activity under one identity, but also sustaining the group's existence.
Pushing the language of experimentation in contemporary art practice
Creation of physical projects together (more than once)
Focus on the visual arts
Focus on post 1975
Active for at least two years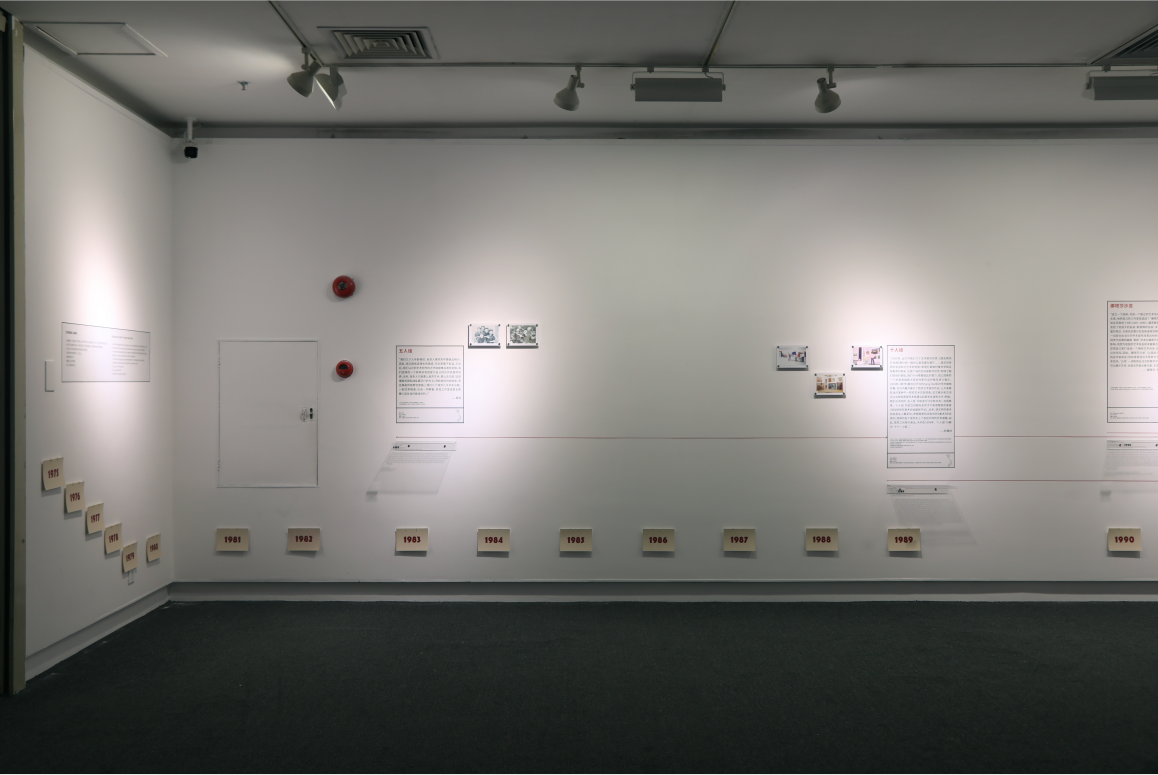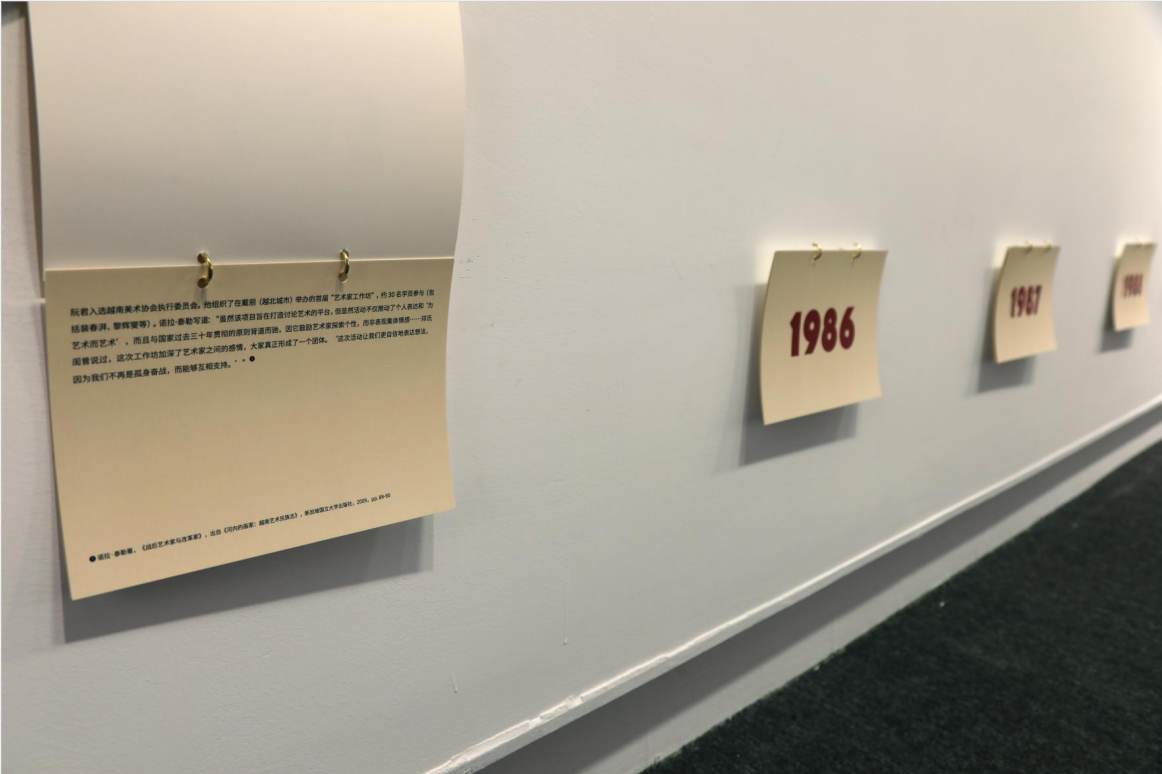 STRATEGIES OF SURVIVAL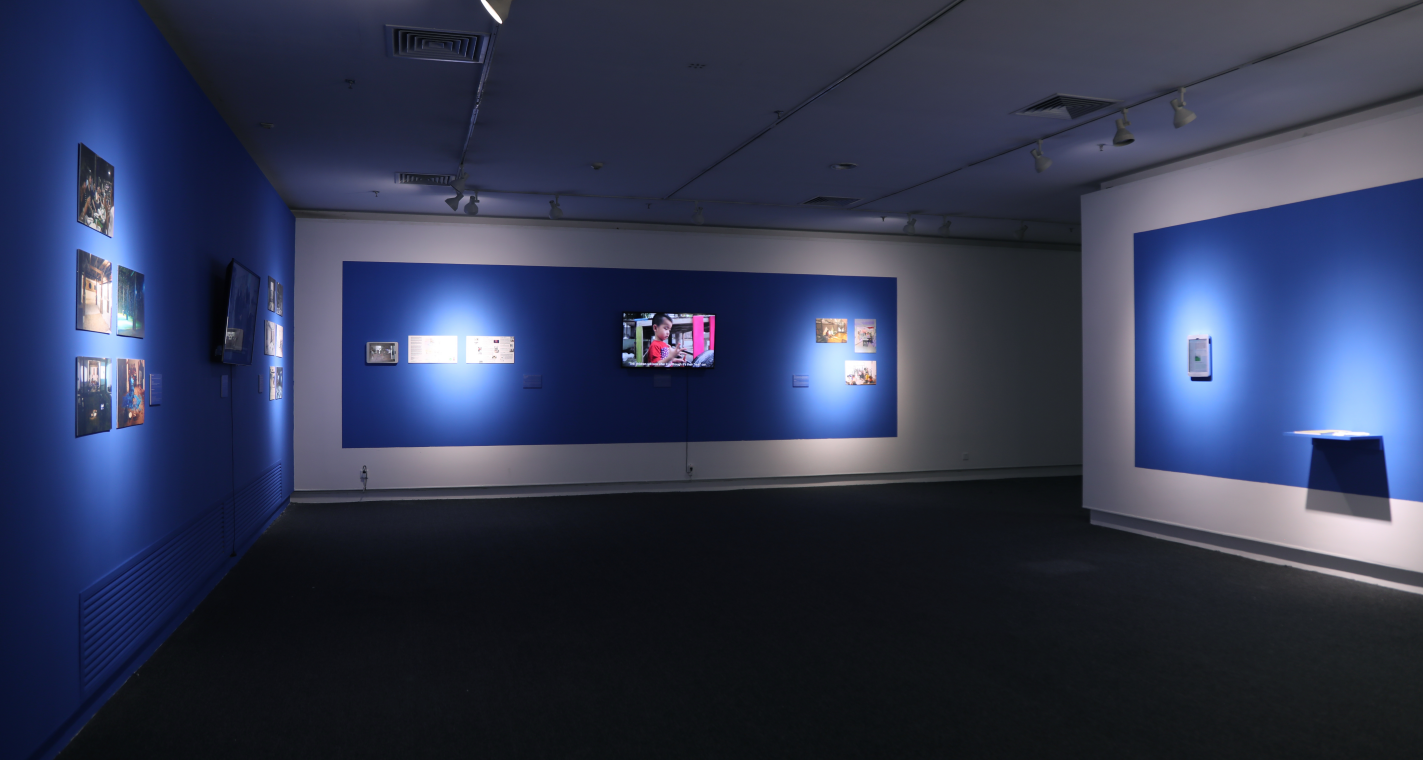 All over the world artists seek audiences for their art, their experiments often coming alive when placed in space that a public can observe, interact, learn and comment. Their desire to know that someone is listening and needing their art is akin to a designer in need of a client, or a doctor responding to a patient, or a guide in need of a tourist. But what do you do when you cannot find the space to speak to your community when there are no advertising agencies, clinics or tours? You create your own!
In Vietnam, where there are very few museums and galleries catering for contemporary art, there have been innovative solutions undertaken by artists creating specific space to display and engage their art. Whether it was due to limited funds ('Atelier Wonderful' by Wonderful District); a critical need to engage public community spaces (a little blah blah); a desire to create a 'journey' in the experience of art (Sao La's 'Art Walk'); the partnering with foreign government initiative in an effort to maintain artistic experimental autonomy (Nhà Sàn's 'occupation' of the Japan Foundation with 'Skylines With Flying People 2', 2012); or the conversion of a hostel's lobby into a gallery space (Chaosdowntown) - such artistic strategies (without commercial imperative) arise in response to a broader social scene's unawareness of the existence and value of such creative spirit, this experimental community with next to no promotional space in the public eye.
1. Photo yearbook of Atelier Wonderful (of Wonderful District)
5 months in Saigon in 2006. An anything-goes experimental attitude. Free-form, free from form. An advocate for the utilization of new media, especially video art installation and conceptual photography. An audience-oriented approach to running education programs for the public. 22 happenings; one every week; all taking place within a 50 square meter apartment in District 1. This photo yearbook captures the best moments of Atelier Wonderful's metamorphic journey: from visual tributes to world-famous artists (such as Andy Warhol and Bruce Nauman) and studio-based residency for artists, to public-engaging activities and talks by experts from various creative fields. These forms of communication we now take for granted, were significant at a time when the local art scene was just beginning to open its doors to Viet Kieu and foreign exchanges. The limitation of spaces, languages and nationalities – once considered obstacles – now started to become possibilities; the specificities of different arts – once separated and categorized – now started to blur.
2. a little blah blah's weblog ((http://albbsaigon.blogspot.com/)
One of the most dynamic artists' initiatives of its kind in Vietnam, a little blah blah (albb) was established in response to the gaps and needs of the Saigon art scene in the mid-2000s, taking on numerous forms and missions: forging artistic interactions with communities in unlikely places for art (emphasizing community engagement and process over product in the rural highland town of Bao Loc in 'The Bao Loc Project', 2007; or taking the physical and social fabric of the streets of Saigon as points of departure in 'SUPER STRUCTURES', 2008); creating creative and critical exchanges among local and international agents from different fields (in their series of 'albb portfolios' and 'albb talks,' public events where artists presented a broad overview of their work, and practitioners and curators their research; 'albb lounges' where more informal yet concentrated sharing took place between a smaller number of participants; 'showtime' a bi-monthly program of contemporary video art; and 'albb residency,' which presented opportunities for artists from other parts of Vietnam, the region, and the world to interact with the local environment; and 'albb reading room' which welcomed everyone to browse through what was the largest archive of contemporary art materials in Saigon at the time). Presented here is albb's weblog, which carefully charts their activities.
These photographs showcase the spaces of Nhà Sàn during its two major phases of existence: as 'Nhà Sàn Studio' (1998-2011), and as 'Nhà Sàn Collective' (2012-present). Nhà Sàn Studio became a destination for the arts in North Vietnam, where generations of avant-garde and experimental artists were given the space and support to produce and experiment with art forms distinct from state pedagogy and commercial markets. Many of these artists thrived, becoming some of Vietnam's most internationally acclaimed artists. Since Nhà Sàn Studio's unofficial closure in 2011, Nhà Sàn Collective continues to further its role as Hanoi's anchoring entity for experimentalism by testing different means of running a collective without a constant physical space. Firstly, by orchestrating mobile and guerilla projects in collaboration with other foreign cultural centers and local art spaces ('Skylines With Flying People 2' and 'Skylines With Flying People 3' in partnership with Heritage Space, Manzi Art Space, CUC Gallery, the Japan Foundation, the Goethe-Institut etc.) Secondly, and most importantly, by overcoming financial constraints via securing space sponsorships from the business sector. Currently Nhà Sàn Collective resides at the Hanoi Creative City creative hub. 2018 may see them move once again.
4. Chaosdowntown's hostel/art space/creative hub
The name 'Chaosdowntown' reveals its nature in a way - a "melting pot", where artists and the community can connect through exhibitions, screenings, and artist talks. Moreover, the audience can "live" in art by booking a bed in the dorm room of Chaosdowntown hostel upstairs. With such a structure of work, Chaos welcomes not only artists but also travelers and friends around the world. They also host flea markets and film screenings and use the profit gained from these events to cover organizational costs for their art events. Running a hostel requires time and management efforts. That's why, even though they have received great support from the art loving community, in May 2017, Thanh (Nu) Mai and Xuan Ha (co-founders of Chaosdowntown) both reached the decision to stop the hostel business and only keep the ground floor area for art events. At the moment, the building of Chaos is rented to other non-profit community projects such as Space Monkies and Dreamy Space by Salome. Chaos remains its identity, while also morphing into another kind of collective of young people based on mutual love, respect and support.
+ Manzi Art Space - 'Into Thin Air' - 2016 (35')
One city | Ten days | Ten artworks | Ten public spaces | One map & smartphone app
A space that doesn't belong to anyone, but at the same time, to all. A site that doesn't just hold its inhabitants' history and memory, but also reflects their personal and collective identity. A place that is often neglected or forgotten, but has the potential to be a zone of creativity. These attitudes founded Manzi Art Space's art-in-public project 'Into Thin Air'. 10 artworks/projects were released in the forms of site-specific, context-responsive and participatory installations, performances, videos and sculptures; and installed in various places around Hanoi, including public sites, private houses and cultural centers. Artists took art out of its conventional environments and onto the streets, reimagined the city's historical, political and social characteristics, and created artistic interventions that were audience-friendly and interactive. An 'Into Thin Air' application for smartphone – including a map allocating the locations of all works; interviews with artists; photographic documentations; artists' biographies and statements - was developed and available to download for free. It acted as a virtual guide, helping the public go art/treasure-hunting. In short, an open creative laboratory for all was set in motion.
+ Sao La's Art Walk
As a mobile space with no boundaries, Sao La initiated the community art project 'March: Art Walk' (2015) with the aim to connect artists and contemporary art with the public. The project was organized by Sao La and Freeland Studio (cafe and studio space), with contributions from over thirty intergenerational local contemporary artists from different backgrounds, from painting, photographs, sculptures, installation pieces, videos, performances, experimental music, to multimedia arts. The nature of the project forced the audience to move through 4 different exhibition spaces: Sao La, Lê Công Kiều Station, Freeland Studio, and Nguyễn Công Trứ Studio - these spaces nestled in a compound of colonial architecture recalling the Pearl-of-the-East (near Ben Thanh Market) forming a hidden 'district' dedicated to art. Following the success of 'Art Walk', Sao La continued to organize 'Art Walk 2.0' in October 2016. This latter program took on a larger scale, connecting different studios of artists across the city. Each studio acted as a distinct art space. The project also created an art map that the public could use to schedule their visits, meet the artists, and participate in music performances, screenings, and talks organized by Sao La during the one month program.
+ Nhà Sàn - 'Skylines With Flying People 2' - 2012 (42')
I cry for skylines which do not have flying people
cry again for flying people who do not have skylines
- Trần Dần, 1988
Launched in 2012, 'Skylines With Flying People 2' was a three-month long mobile/pop-up art project, constructed as a mega studio where the artists' working process and experimentations were carried out in front of the public, with the public. Located within the yard area of the Japan Foundation (Hanoi), 'Skylines With Flying People 2' used a real, physical space to form an unreal, ephemeral one which went beyond all boundaries. The concept of mobile/pop-up has long existed in the local context akin to forms such as street-side stalls or vendors. The artists of 'Skylines With Flying People 2' adopted the same survival principles. Using existing borders and limits, they set up another horizon, a new place for existence, one that hovered among systems and regulations, opening up possibilities for further experimentation and exchanges.
ARTISTS LOOKING AT ARTISTS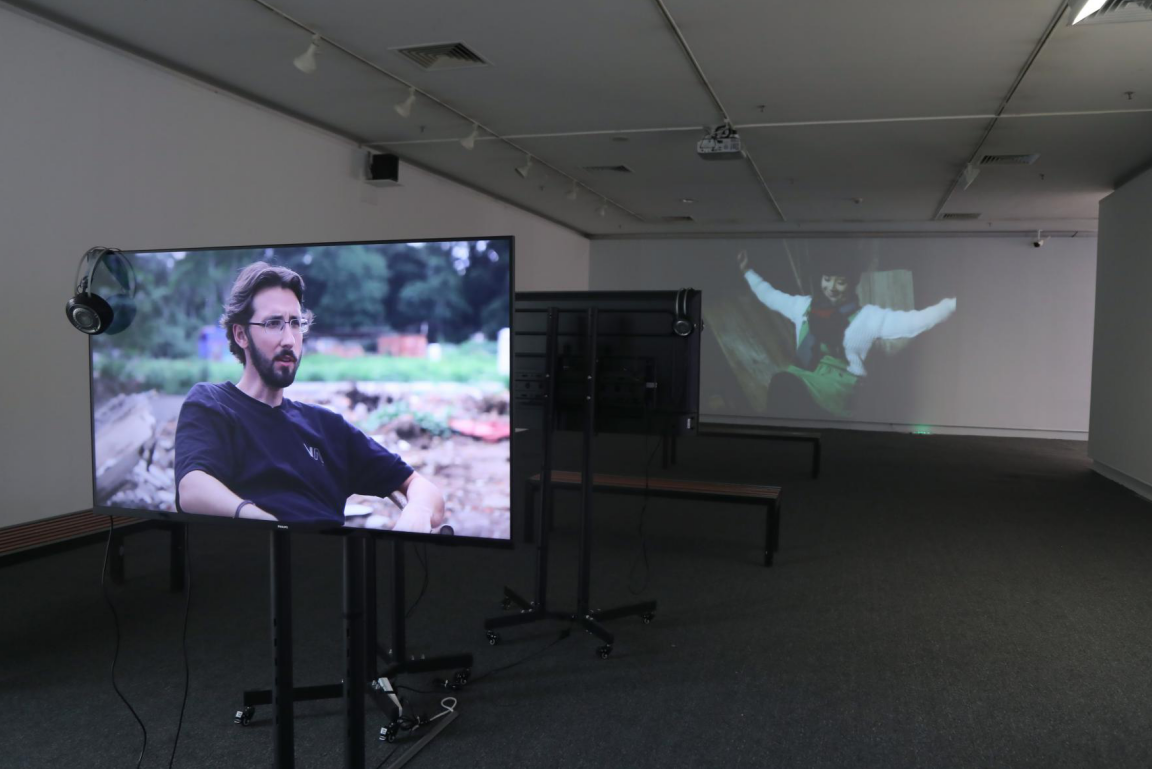 In a community that does not possess public archive of its artistic history, with a lack of institutions that critically collect and catalogue artistic production (the result of ideological and economic limitations), whereby access to living expertise and experience is also limited (a consequence of post-war migration); it is increasingly prevalent that creative talent has sought to research and document influential figures of Vietnam's past and present artistic landscape. In this educational zone, various documentaries are shared:
1.
Nguyễn Trung
by Trần Mỹ Hà - Đỗ Hoàng Tường
2017
28'
This documentary, 3-years in development, reveals the practice, personality, and life of artist Nguyễn Trung through candid discussions, spontaneous moments captured in his daily life via multifaceted interviews about his legacy with Ca Lê Thắng, Lương Xuân Đoàn, Trịnh Cung, Trần Văn Thảo, Đỗ Hoàng Tường, and Phạm Phương Cúc (CUC Gallery).
2.
The Essence of Spring
by Trần Mỹ Hà
2017
28'
Realizing the lack of acknowledgement and record of artists working in Saigon since 1975, film maker Trần Mỹ Hà made this documentary to showcase the art scene of the South following Đổi Mới, featuring painters Diệp Minh Châu, Cổ Tấn Long Châu, Đỗ Quang Em, Nguyễn Trung, Nguyễn Lâm, Hồ Hữu Thủ, Trần Trung Tín, Ca Lê Thắng, Đào Minh Tri, Trần Văn Thảo, Nguyễn Tấn Cương, Đỗ Hoàng Tường, Huỳnh Phương Đông; and sculptors Nguyễn Hải, Phan Gia Hương and Nguyễn Hải Nguyễn.
3. Le soir est tout soupirs
by Nguyễn Quang Huy
2005
30', in French and Vietnamese only
Video experimentations by Nguyễn Quang Huy exploring the legendary poet Dương Tường's creative processes of performing, writing and translating poetry. Originally shown as part of the group exhibition 'Le soir est tout soupirs' (L'Espace, Hanoi, 2005) with poems by Dương Tường, music improvised by Vũ Dân Tân, clothes by Trương Tân, and sculptures and installation by Nguyễn Minh Thành.
4. 15+
by Tạ Minh Đức, commissioned by Nhà Sàn
2013
46'
The ups and downs of Nhà Sàn, told from the perspective of its co-founders and generations of artists, partakers and supporters. This documentary was made on the occasion of Nhà Sàn's 15th anniversary (2013), including interviews and rare footage of early exhibitions, events and gatherings.
5. Viet Nam The World Tour with El Mac
by The Propeller Group
2013
11:17'
El Mac shares his personal inspiration for creating art, and along the way, we get to see him doing what he does best in public, working with local Vietnamese graffiti artists, mutually learning new techniques in Vietnam.
‍